Press Release -
The Mount Adams Helmet Light Helps to Bring Home the Gold and Silver in the 2003, 24-Hours of Starvation Ridge in Goldendale Washington
Archers Company LLC received several inquiries regarding the Mt Adams Helmet Light preceding this year's annual 24-Hours of Starvation Ridge OHV race, located in Goldendale WA. Our answer was always the same. "The Mt. Adams Helmet Light is not intended for serious racing, but instead, it is more of a low cost option for people who find themselves on their OHV from time to time at night. The deer hunter returning from an evening hunt is a good example." But thanks to the persistence of Mrs. Leann McGinnis, we were convinced otherwise.
Archers Company reluctantly agreed to sponsor two of the Starvation Ridge teams by supplying the standard "Not For Serious Racing" Mount Adams Helmet Light, with unbelievable results! The two teams won a first and second place in the women's amateur and open amateur divisions, respectively.
The lights worked perfectly during the entire 24 hours with only one crash related failure. Has this changed our minds about the Mt. Adams Helmet Light? No not really, it is still intended as a low cost, "when in need" light source. But hey, maybe next time we won't be so reluctant to go racing!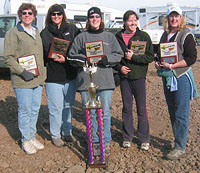 Katie, Natalie, Leann,
Emily and Kimberly
took First Place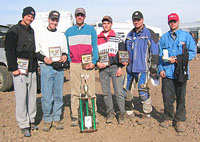 Brin(checking on the spelling), Mark, Kevin, Mario,
Doug and Scott
took Second Place