Bulletin: Construction site burglaries reach an all time high!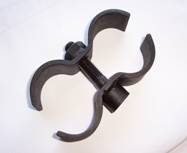 Archer's Company is proud to present its newest innovation for the construction industry
Archer's quick clamp is a revolutionary new fastener system for temporary construction fence.
Installs in seconds, as much as four times faster than the conventional saddle clamp & carriage bolt currently being used today.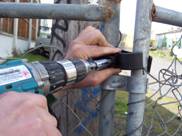 With this new patent pending tamper proof clamp system your construction site is no longer at risk from thieves wanting to gain entry armed with only a pair of pliers.
Demand the Archer's quick clamp the next time you order site security fence for your project!
For more information, contact:
John Pingel
(john@statonco.com)
Product Development, Sales
Archers Company LLC
--------------------------------------------------------------
>> Innovative Customer Solutions <<
--------------------------------------------------------------
Direct: 503-519-0858
Office: 503-249-8870
Fax: 505-249-8296